NATIONAL SCULPTURE SOCIETY
NEWS BULLETIN
July/August 2002
Sculptor Profile: BARBARA LEKBERG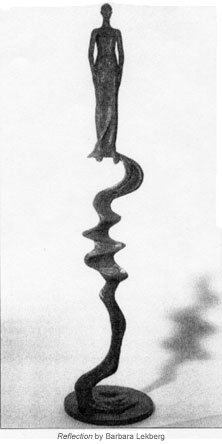 Inspiration for Barbara Lekberg's sculpture comes from a variety of sources in her life. Music, dance, news photography, literature and even science have all been important in the development of her work. Such influences are easily recognizable in her vibrant sculptures of dancers, and her figures drawn from mythology, the Bible and theater. The artist absorbs a multitude of impressions, from the most fleeting of thoughts to the impact of life events. Lekberg feels the creative process involves both conscious and unconscious work in organizing experience. "Something may affect you and months and even years can pass before it surfaces as an idea for sculpture. It may seem like a jolt of sudden inspiration but a lot of work has already been done unconsciously. I think daydreaming, where the mind is relaxed and open and ideas float freely can be an aid in accessing such ideas."
Her recent sculptures exist in a realm that crosses the conscious and the unconscious. Clusters of individuals gather on billowy branches of trees as in Tree of Life or stand stoically in a crumbled ruin as in Caryatid. If there is a passing resemblance to Surrealism, well, Lekberg would have to agree. "When I began, I felt close to German Expressionism and my work was strongly gestural, with emotionally impelled movement. Now I feel a kinship with the Surrealists: Duchamp, Max Ernst, de Chirico, Giacometti. Movement now is more internal; more about states of mind and being as figures relate to each other and the environment that surrounds them."
Barbara Lekberg was born in Portland, Oregon and grew up in the mid-west. Her parents were musicians and she developed an early love and appreciation for the arts. She was determined to be a painter and it was during a drawing class in her freshman year at the University of Iowa that she first considered sculpture. "My teacher, the sculptor, Humbert Albrizio, looked at my drawings and suggested I begin sculpture. He explained that sculptors and painters draw differently; sculptors accent contours and painters accent light and dark values. I drew like a sculptor." Fully committing herself to sculpture, Lekberg found unexpected challenges in creating sculpture during war time. " I always wanted to send figures off into space, but choices of material, particularly metal were very limited. When I went home on a break, I was rooting around in our attic and found a cache of wire coat hangers. It was a treasure! I brought them back to school and used them to create armatures for direct plaster. As I recall, they worked very well!"
After receiving her M.A. from the University in 1947, Lekberg made the move to New York City. The late 40's and early 50's were a heady time for artists in the bustling city and Lekberg was no exception. She continued her studies at the Clay Club, which later became the Sculpture Center, and was exhilarated by the artistic environment she found there. "It was a young sculptor's paradise where students and established artists worked side by side. It is sad that such a facility no longer exists. It is difficult for a young sculptor to afford the machinery, materials and space necessary for making sculpture, particularly in New York. Also after years of comradeship in school, it is hard to be suddenly on your own. The Sculpture Center provided a supportive environment where we were free to explore our ideas. When I arrived there a new technique was coming into use: oxyacetylene welding. Sahl Swarz, co-director of the Center with Dorothy Denslow, taught us all to weld. For me it was [as] if the heavens opened.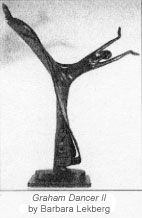 The old struggle with plaster and coat hangers ended when I began to weld steel. Steel held its own when projected into space and seemed to do everything I needed. This is a primal joy in sculpture: that a mineral from the earth can be a vehicle for expressing one's innermost thoughts. Exhibitions of welded sculpture in the Sculpture Center Gallery included artists like David Smith and the rest of us as we grew. Articles and reviews from the time were enthusiastic about the new technique and some found it particularly surprising that women could weld. The general roster of the Gallery read like a 'Who's Who of American Sculpture' from Baizerman to Zorach."
And welding became a mainstay in Lekberg's career for decades thereafter. Her welded steel and bronze sculpture can be found in many private and public collections across the United States including The Whitney Museum of American Art, New York; Mount Holyoke College, Massachusetts, and the National Academy of Design, New York to name just a few. She has exhibited in solo shows at The Museum of Fine Arts in Columbia, South Carolina; Benbow Gallery in Newport, Rhode Island; The Sculpture Center, New York; The Museum of Fine Arts, Birmingham, Alabama; The Glass Gallery, Toronto; Harmon Meek Gallery, Florida, among others. She has exhibited in group shows at the Whitney Museum, Museum of Modern Art, Pennsylvania Academy of Fine Arts, Grounds for Sculpture, and other venues here and abroad. Lekberg is the recipient of two Guggenheim Fellowships, a grant from the Institute of Arts and Letters, and another grant from the Richard Florsheim Art Fund. She also won the Saltus Gold medal from the National Academy of Design in 1990; and the Gold Medal from the National Sculpture Society in 1991.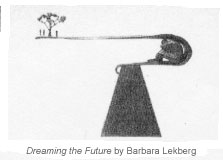 Today, Lekberg is expanding her vocabulary both in subject matter and use of materials. Using terra cotta, cast bronze and found objects, she assembles environments where figures - alone or in crowds - dwell and contemplate. A number of these are quite small and Lekberg makes a musical analogy. "We have chamber music and symphonies serving different creative needs. These recent sculptures are chamber music - intimate, intense, drawing the viewer in." Some of the subjects, dreams, or landscapes, would seem almost unsculptural but she is impelled to explore such ideas. She is particularly involved with the emotional implications of proportion and scale, the way in which larger and smaller figures in the same composition can suggest distances in time and space. "I returned once as an adult to my elementary school.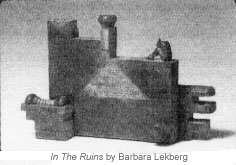 What I had remembered as a huge cavernous entry with a steep staircase going up into darkness was, to my adult eye, a rather dingy hall of ordinary dimensions. The perceptions made by the small, frightened first grader and the adult are both true and I am having an interesting time incorporating them in a current sculpture."
This past fall, Lekberg had an exhibition of her work at the Century Association in New York City. Entitled "Space, Time, Memory" the show ran from September 4th through October 12th, perhaps the worst time in the history of New York. "Along with everyone else, I was stunned, and wondered what possible relevance an art exhibition could have at that time. However, people seemed moved by my subject matter and often commented on its almost eerie resonance with the disaster. Several of these sculptures were of ruins (two are on this page).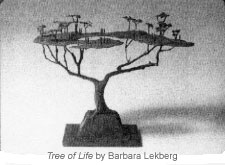 All were intensely personal dealing in one way or another with catastrophe and renewal. The work appeared to give comfort to total strangers and some, writing in the visitor's book, actually thanked me. And this is perhaps the most profound joy of sculpture, to have another person say, in effect 'I know what you're saying; I get it; I understand.'"
For twenty years, Lekberg was on the faculty of the University of Arts in Philadelphia. Her principal concern in teaching was to encourage the students to experiment with ideas and techniques. This was to help them begin the task of finding out who they were as artists. "I often told them not to worry about being original. I would say 'You are what's new! Your perception has never been here before. The world needs to hear from you.' I would also stress art history because history can validate choices and give a student courage to pursue who he or she is. I wanted them to think about why certain artists affected them as a key to their own direction." Lekberg encouraged reading in a variety of fields, and recommends, for example, Joseph Campbell's books on mythology and biologist D'Arcy Thompson's On Growth and Form.